People buy e-scooters for many reasons, such as it being a fun, compact, fast and cheap way to travel compared to other vehicles. Another reason why people buy is that it is a more environmentally friendly way to get around, the feeling of being eco-friendly while cruising around gives satisfaction.
We know that e-scooters are always marketed as being an eco-friendly way to travel. We also know that there is a big negative connotation in the press and the public opinion that scooters are environmental disasters. Here, we would like to provide a bit more elaboration on the topic, by sticking to the facts rather than subjective opinions.
In short, when compared to other modes of transportation, e-scooters are quite environmentally friendly, since they do not pollute the air during a ride because of their rechargeable battery, meaning zero emissions. Yet, if we evaluate the entire value chain, from production to recycling, we will get the full picture and fair basis for comparison.
Emissions
"That actual trip somebody's taking on the scooter — that's pretty green, what's not green is everything you don't see." said Juan Matute, the deputy director of the UCLA Institute of Transportation Studies.
50% of the carbon impact is linked to the production process. For instance, the production of the scooter battery accounts for about 20 grams of CO2-equivalent (CO2e) of GHG emissions, and the scooter body and tires account for 184 grams of CO2e, totaling up to 204grams of CO2e.
Although these numbers might be seen high at first, and are comparable to the production of an EV car, when we look at the TOC (total cost of ownership), e-scooters become much greener compared to other alternatives, including cars, buses, and even public transportation.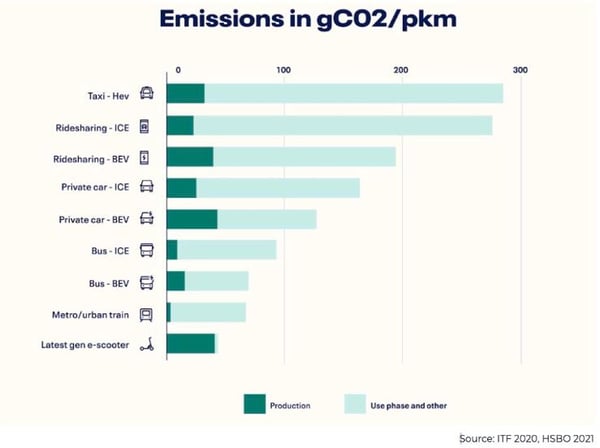 Similarly, we can look at other figures providing the fuel consumed and CO2 emitted per passenger per kilometer, we can easily see the comparison is far off between a car and an e-scooter.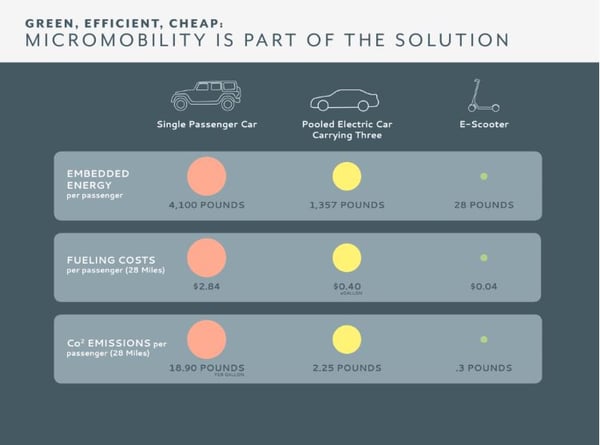 Another following analysis shows us the energy efficiency of a scooter compared to all other types of transportation. It can only be outperformed by traditional (non-electric) bikes and walking - obviously.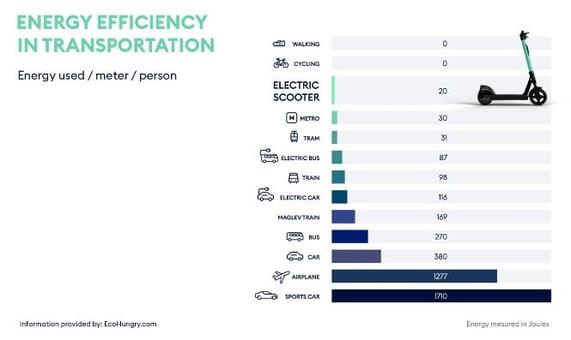 One of the biggest reasons for emissions caused by e-scooters is the transportation and collection for recharging e-scooters. The dockless e-scooters need to be dispatched to their spots and later collected and moved to be recharged, and that means using trucks that naturally will emit CO2. The collection and redistribution of scooters account for 43% of their overall environmental impact. There is a positive trend that this operational work is managed by cargo bikes recently, but that's just at its starting phase.
We need to highlight, however, that these analyses only focus on 'shared-scooters' that we all see in the streets, but not necessarily on the ownership model. And we should also emphasize that the sales figures (# of owners) are beyond 30-50 times larger than the sharing model. So, the story is actually quite different when we focus on people buying and using these devices as their main means of transportation.
Another misperception we need to highlight here is that most people claim that e-scooters only replace walking, which is mostly true for shared e-scooters, it is not really the case for owners of e-scooters. Owning an e-scooter drastically reduces the usage of cars as seen in the chart below. Over 40% of owners do actually replace cars in their mobility, which is negligibly small in the case of shared-scooter users (under 10%).

According to research by the European Parliament, transport is responsible for nearly 30% of the EU's total CO2 emissions, of which 72% comes from road transportation. Of course, the type of vehicle changes depending on how much it pollutes but on average cars account for 60.7% of total CO2 emissions from road transport in Europe. So by owning an e-scooter, you can reduce this big number of emissions caused by cars.
Lifespan
Another big issue is the limited lifespan of the e-scooters. And that is exactly our mission in our business: We can certainly help you out with this!
Every e-scooter will have a different lifespan, depending on its design features. On average, electric scooters have been estimated to last approximately two years.
This short lifespan considerably increases the negative ecological impact of scooters, because as they're only used for a short period, the negative impact of batteries is not depreciated over a long period.
Spread out over the average 1200km of the scooter's lifetime, the emissions caused during the manufacturing process, come out to 272.1 grams of CO2e per lifetime scooter mile.
With new technological advancements and better designs coming up in the market, this period is continuously increasing. Now, there are many e-scooters that have a lifespan of up to three to five years.
Nevertheless, this makes the maintenance of e-scooters crucial. This is where we come in. The sales of e-scooters and e-bikes are drastically increasing, however, the after-sales and maintenance services are not catching up with the same pace.
Cyclecure is one of the few repair platforms that have an understanding of a great variety of models and takes care of their maintenance.
The big "E-Waste" Problem!
"E-waste is the fastest growing waste stream in the EU and less than 40% is recycled."
Wasted electronic and electrical equipment contains potentially harmful substances that pollute the environment. When e-waste is not dismantled with care, it releases dust particles or toxins, such as dioxins, into the environment that cause air pollution and damage respiratory health.
The EU has published new measures under the "European Green Deal" that aims at transitioning to a circular economy by increasing the sustainability of products sold on the EU market.
The new measure eliminates waste and pollution, circulates products and materials at their highest value, and regenerates nature.
In a circular economy, waste is prevented by ensuring that products are reusable, recyclable and reparable.
In regards of circular economy, La Tournevie, an organization in Belgium has created a tool library of used parts. They lend used tools to citizens as a way to reduce the buying of new ones and promote reusing and repairing.
You can learn more about the European Green Deal, in the article about it on the Brussels Times and more about La Tournevie on Euronews.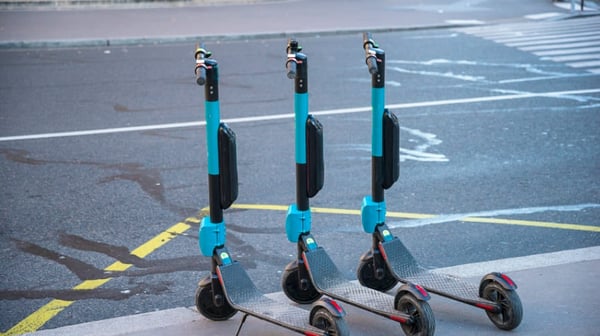 What does Cyclecure do against waste?
As our CEO Evrim Taskiran said in his interview with VLAIO, "People buy something, use it, and when it's broken they end up throwing it away. My heart breaks when I think of the waste mountain this creates. We want to tackle this throw-away mentality by building a network of mechanics all over the country. Through a platform, we bring owners of e-steps and e-bikes in contact with our experts."
Cyclecure is a specialized e-mobility repair platform. Our ever-increasing team is trained to repair to increase the lifespan of devices and refurbish to give them a second life.
Over the course of the last three years, we have built a number of partnerships to ensure that we limit electronic waste and maximize the reuse of spare parts of e-scooters.
To start with, for damaged or depleted batteries, we have two partnerships in place. The first one is Gouach, a French startup that produces sustainable batteries, for which we provide some of our working batteries to be reused. In case the battery cannot be reused, it goes to recycling via Bebat, a Belgian company specialized in battery recycling.
We reuse many mechanical and electronic components like the motor, batteries, tires, and so on. in our repairs. We take the parts of other e-scooters that could not be repaired and use them to repair others. This way we reduce waste and consumption as well as make the repair prices much more affordable.
For electronic components that cannot be reused, we work together with another Belgian company called Mirec. They are the experts in the recycling of electronic and metal components.
We recycle and upcycle tires and their rubbers. For recycling, we partnered up with a Belgian company called Recytyre, where they collect and recycle tires in a sustainable way.
For upcycling of old tires, we give them to Bicloo, a company that produces accessories such as bags, wallets, and other very cool stuff, yes, out of used tires and inner tubes.
We are very proud of working with these amazing companies, and the ecosystem we have built so far, and the way we reduce electronic waste and help build a circular economy.
Do you want to help make our goals come true?
Earlier this year, Cyclecure got accepted to the crowdfunding platform LITA.co, a leading impact investment platform, which specifically focuses on sustainable and ecological startups.
Being on this platform will provide us with greater exposure to various potential stakeholders, customers, partnerships, the press, and investors. It will also help in securing financial assistance and investments. This way we can continue to fight for our values.
You can start investing in Cyclecure with even a small amount of 1000€. You'll become a shareholder and an ambassador for our company and also help the environment.
To learn more about LITA.co and our campaign you can check out one of our previous blog articles.
Come and join our journey!
Discover more from our blog articles